What's happened in the last three weeks?
The current situation is probably best described in the following words: completely unexpected and uncertain where it will lead us. But even though the invisible enemy, Sars-CoV-2, which is currently confronting the economy, social structures and systems worldwide with unprecedented challenges, has already been splashed with media attention, we would like to take up this topic once again. In the following lines, we deliberately write from a personal, company-internal perspective – with the attitude that rain is always followed by sunshine. Of course, we do not suppress the fact that many people fear for their livelihoods, even for their loved ones, but we must nevertheless face these crazy times objectively and think about the future. We bear the responsibility for the satisfaction of our customers, for our employees and for the continued existence of our company.
In the last three weeks, the Corona crisis has suddenly changed the world. Not a single day goes by without alarming news about rising case numbers. Companies of all sizes, employees, self-employed and freelancers, families and members the so-called risk groups – hardly anyone knows what the next few days or weeks will bring. How will things continue politically? What measures still need to be taken to further lower the spread of the virus? A situation for which no one could be prepared and which no one could foresee. For us as a young start-up, shortly before the launch of our product, this crisis was equally unforeseeable. Our managing director Benjamin, who was employed at a bank before he joined Feelbelt, describes the situation quite aptly: "Even though I am an extremely positive thinking person and am always looking for business opportunities in such situations, I have never experienced such an economically disastrous situation. In contrast, the Lehman Brothers bankruptcy during my active time in the bank was a joke".
However, like many companies in the digital and entertainment industry, we are not too badly affected and are very grateful for this. According to Benjamin, unlike some of our local partners who worry about their livelihoods, we are "...fortunate to be predominantly digital, which means that all of our processes are aligned with both remote working and online sales. That's what we benefit from in this situation." Despite largely digitalised processes, however, the constraints of public life mean that we have difficulties with our production and development processes and with some of our offline PR and marketing activities. Unfortunately, we had to postpone our market launch by four weeks, from April 1, 2020 to April 28, 2020. Further, we did not expect such drastic contact restrictions, so some of our pre-launch PR and marketing activities and live performances are not feasible or uncertain (e.g. road shows in North America, Berlin, London, Paris and Blogger/Influencer events). We also had to cancel our participation in the TSS (Technology Summer Show) on Ibiza for the end of April. As a result, we applied for the grant offered by the state, as the postponement of our market entry and the cancellation of all our appearances hurts us as a young start-up.
With regard to the production and development of our Feelbelt, the Corona crisis is a time of uncertainty for us. In addition to longer delivery times, we are confronted with an incalculable supply of some components due to the collapse of air traffic and closed borders. One US-American manufacturer of a certain component is completely out of business – luckily, we have already been able to find an alternative supplier. A transporter with the boards for our Feelbelt suddenly disappeared for two weeks, apparently stuck at a closed border of a neighboring country. In the meantime, it has fortunately reappeared and we continued our production with only a short delay.
But let's get back to digitalization and the opportunities that the Corona crisis brings with it, despite all the difficulties. With the exclusive online sale of our product, our marketing and PR activities take place online for the most part. At the moment, people are forced to spend more time actively dealing with the content of social media, other online offers and gaming. Our marketing measures are therefore having a correspondingly good effect; our figures even show a significant increase in the number of hits and responses to posts in social media. Benjamin said it is especially astonishing that we are receiving a particularly large number of pre-sales enquiries from Italy - despite the current tense situation in the country, which in turn shows that online sales is a functioning and reliable sales strategy in every situation.
Our developers are not only seeing the downside of the crisis, too, as many service providers now have more capacity than before; accordingly, they have been able to intensify their cooperation. The anticipated sudden availability of many capable employees also offers us the chance to expand the skills in our team and to hire new talents. That being said, we were able to hire a new employee on the first of April.
All in all, we have a great team that handles this tough situation extremely well and professional. The complete digital equipment of Feelbelt enables us to remain highly productive, for which we are very grateful. Besides video calls, an application called 'Slack' helps us to communicate quickly and actively and to work together on all processes, even from our home offices. Therefore, despite the crisis, we see our market entry as perfectly prepared and take the circumstances as they are - according to Benjamin's attitude to life: "In every situation there is always a chance!". We decided to not let fear determine our ongoing everyday life and to rather see the crisis as a chance for learning, development and growth. Below you find a graphic that perfectly describes our attitude towards the Covid-19-pandemic: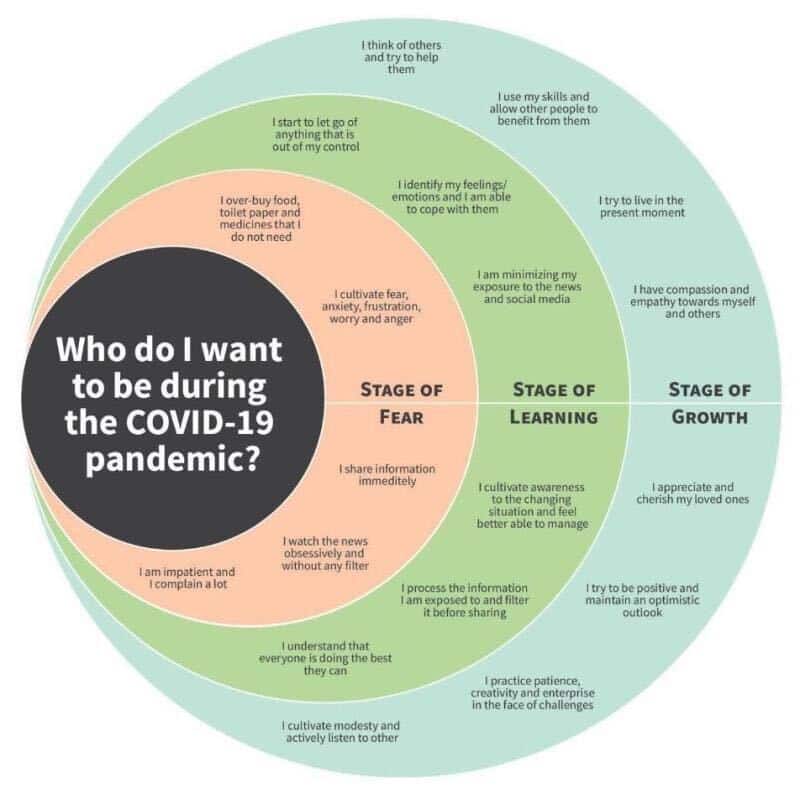 Of course, this crisis will not be without consequences for us, the entire economy and the global working world. Working remotely will be more recognised and taken for granted, which in our view is a step in the right direction, as we lived the principle of 'New Work' even before Corona. Many companies will hopefully anchor the basis of digital working more firmly in their structures. In addition, we hope that the current overload of many Internet lines will give reason to finally bring Internet speed and quality in Germany to a level appropriate to digitalisation. "What is really worrying is that the Internet is not designed to allow the whole of Germany to work remotely. It's crazy to see that I have to cancel a Hangouts call for our Google Start-Up Onboarding program because the Internet capacity no longer allows video calling," Benjamin notes.
Economically, we will be moving into a recession, which means for us, the team at Feelbelt, that we have to be prepared for the possible loss of important suppliers. We are already preventing this by adapting our production processes accordingly: We are already purchasing important components, so that the production of larger quantities, intended for after the launch, is solidly prepared and can proceed without surprises. Ultimately, we are also focusing on the positive and our managing directors Benjamin and Felix agree that "Our big advantage is that we have great investors who stand behind our vision to fundamentally revolutionize the sound experience even in these crazy times.".
Because no matter how severe the economic situation is and how it will develop: We will win more than we lose, because we are a strong team with a loyal community! Together we have already achieved a lot, and in hard times we can even more count on each other. By adapting our processes, foresighted planning and team spirit, nothing can stop our successful Kickstarter campaign!